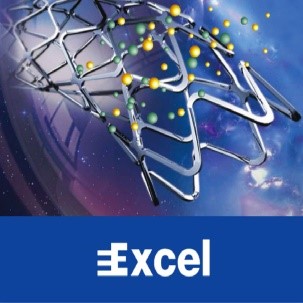 EXCEL
The first Drug-eluting stent with biodegradable polymer in China market

The stent has been clinically tested and proven by evidence-based medical studies through more than 10 years clinical practice

Effective and Safety of the stent has been confirmed by JACC, the internationally authoritative scientific publication.

The result of the evidence-based medical study of the stent has been released on TCT, the internationally authoritative scientific conference.
The outstanding features of EXCEL drug-eluting stent from JW Medical Systems include its long-term efficacy, safety and cost effectiveness.
Long term efficacy ¨C EXCEL has been applied in hundreds of thousands of cases in the past decade. The long-term efficacy has been confirmed by authorized hospitals.
Safety: The drug elutes gradually during a 6-months period after the implantation. The polymer coating will degrade thoroughly into CO2 & H2O. The drug has no residual in the vessels whereas is more environmentally friendly and safer to prevent late stent thrombosis.
Efficiency & cost effectiveness: The pioneering single side polymer coating technology, which coats the polymer on only the abluminal side of the stent, enables direct drug release to the vessel wall, improves drug efficiency, reduces restenosis, and more effectively prevents stent thrombosis. According to the numerical data from clinical practice, there is no statistical difference in the rate of MACE between the two groups (one treated with 6-month DAPT and the other with DAPT of more than 6 months). The result provides the doctors with reference on DAPT therapy determination and thereby saves the patients thousands of Yuan on drugs. Theoretically, the selection of EXCEL implantation reduces long-term side effects of drug, and saves the national healthcare resources.
Mature biodegradable coating technology, safe and Eco-friendly
•First drug eluting stent using biodegradable polymer of lactic acid (PLA)
•Coating 100% degrade into CO2 & H2O
•Excellent biocompatibility
•Effective prevention of late/very late stent thrombosis
•Shorten the duration of dual anti-platelet therapy
•Hundreds of thousands of successful clinical cases of implantation
Bring you adequate confidence in interventional therapy
Unique abluminal coating technology, economic and efficient
•Patented abluminal coating technology
•Inhibiting intimal hyperplasia and effectively reducing restenosis
•Avoiding delay of endothelialization on stent surface and promoting early healing of the vascular wall.
•Effective prevention of late/very late stent thrombosis
Release you from any future worry about interventional therapy
Exquisite stent structure design, easy to use
•Unique 6, 9 crowns and open-circle structure, with ultra-large side opening, more suitable to bifurcation lesions
•Stent delivery system exquisitely and strongly designed, with hydrophilic coating for easy lubricating
•Stable stainless steel, demonstrating provide excellent performance for angiography, easy to position.
Provide you immediate advantages experience in interventional therapy
Product performance:
The product is mainly used to expand the stenosis lesions in coronary artery and support the blood vessel wall through percutaneous coronary intervention procedure (via femoral artery or radial artery). Drug on stent is used to restrain proliferation of vascular smooth muscle cell and prevent restenosis.
Product specification: